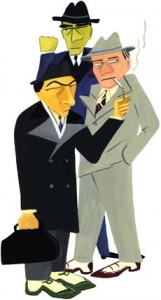 I really didn't want to spoil it but…I just couldn't wait any longer. Everyone, SEGAbits is now under the management of the Jewish Mafia!
Under our wonderful new bosses, SEGAbits will be undergoing some wonderful changes we're sure you'll all appreciate. For one, we're removing all of those stupid sections and search functions that make this website easier to navigate. From now on, you'll have to work extra hard to look at our awesome articles once their pushed off the front page. We'll also begin doing unboxing videos for all of Shadi's cosmetic equipment, including some MASSIVE toe nail clippers he got recently. Seriously, I think he has a medical condition or something. Ever wanted to see what the inside of a box of zit cream looks like? Well soon you will!
The new unboxing videos will also be accompanied with a brilliant, innovative set of articles: top ten lists! Such lists will include:
Hottest granny porn of the week
Hottest grandpa porn of the week\
Hottest furry porn of the week
The top ten sexiest congressmen
Ten political movements we feel are readers should participate in.
And finally, hot monkey sex!
If all that wasn't enough, we'll also be performing monthly give aways consisting of Shadi's used cosmetics. Ever wanted a mostly empty bottle of Hot Spice used by our lovable little web designer? Well now you can get it!
In addition to all this wonderful content, we'll also be offering additional services that you never asked for but we're sure you'll love, such as:
Protection Program: Take it and we'll protect you with armed body guards at all times. Don't take it and we'll break your bones until your begging us to protect you!
Assassination services: Ever wanted to bump off the neighbor's smug kid? Contact our Assassin service with an address and you'll never have to deal with him again!
Free Bar Mitzvahs: The Jewish Mafia isn't JUST about killing and protection, you know. Have a boy turning 13? We offer free Bat Mitzvah services for all members!
Now, I would also like to announce two open positions that we are looking to fill. Unfortunately, George and Sharky were not terribly enthused with the idea of making this site way way cooler, so they had to be bumped off. Don't worry though, because their loss is your gain! You rad? You cool? You willing to bump off a bunch of old people late on their protection payments? Apply today!
Slice n Dice!